What Others Are Saying...
" Not only is Sean a great nutritionist, but he's an excellent strength coach. I've coached athletes with him on multiple occasions. The most impressive attributes I've seen in him is his integrity, work ethic, ability to work with athletes and desire to be the best coach possible...."
-Luke Richesson. Head NFL Strength & Conditioning Coach for Denver Broncos
A Few Words About Our Team...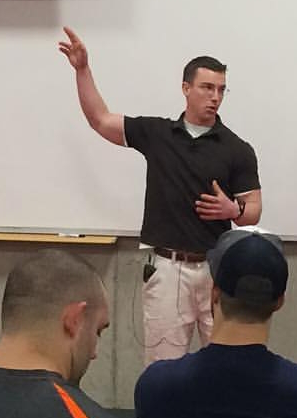 Sean Casey
While attending college at the University of Wisconsin-Madison, I was an intern strength coach with the UW-Badgers Strength and Conditioning Department. I also spent time interning at the International Performance Institute in Bradenton, FL where I had the opportunity to assist with the USA U-18 National Men's Soccer team. I also interned and later worked as a physical preparation specialist at EXOS (Previously known as Athletes' Performance). While at these locations I had the opportunity to train amateur and elite athletes from a variety of sports (football, soccer, baseball, golf, tennis and basketball).
My applied experience has been complemented with classroom studies. I graduated from the University of Wisconsin - Madison with degrees in both Nutritional Science-Dietetics and Kinesiology-Exercise Physiology; earning highest academic honors in the process. This was followed up completing my dietetic internship through University of Wisconsin - Green Bay. This was followed up by becoming certified as sports nutritionist (CISSN) through with the International Society of Sports Nutritionist.
Along with running CasePerformance, I co-own Dietetic Advantage with Brian Putchio. Together we develop nutritional supplements to enhance life, health and physical performance.
Testimonial support for Sean Casey
---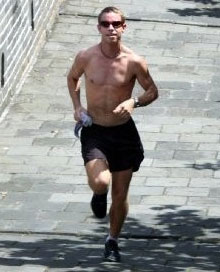 Justin Andrews
Justin Andrews has been competing in distance running for the last 14 years. From humble beginnings, he has since carved out a successful running career. A top-ten finish at Wisconsin's state high school meet in the 3200-meter run gave way to a solid collegiate campaign. Since graduating, Justin has lived and trained in Kansas City, MO where he ran with the top running club in the city, the Kansas City Smoke.
Running daily with other top regional runners has pushed Justin to new levels. He has won numerous road races from 5k to the half-marathon distance, and placed in the top-ten in Atlanta, GA marathon in 2009.
| Event | Year | Place | | Time |
| --- | --- | --- | --- | --- |
| Madison 1/2 Marathon | 2009 | 1st | | 1:12:29 |
| Atlanta ING Marathon | 2009 | 8th | | 2:37:48 |
| Kansas City Marathon, 2-man Relay | 2008 | 1st | | N/A |
| Kansas City Hospital Hill Run, 10k | 2008 | 1st | | N/A |
| Dubuque, IA 10k Heritage Trail Run | 2007 | 1st | | 32:43 |
| Dubuque, IA Turkey Trot, 7.5 miles | 2006, 2008 | 1st | | 39:53 PR |
| Kansas City Trolley Run, 4 miles | 2007 | N/A | | 20:16 |
| Overland Park, KS, Abby's Run for the Heart, 5k | 2006 | N/A | | 15:52 |
| Quad Cities, 5k | 2008 | 1st | | N/A |
---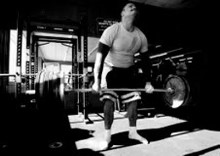 Phil Stevens
Phil Stevens, while attaining both his Bachelors and Masters degrees in studio art found another passion, that of training and nutrition. A constant "student" of the game, his real-world under-the-barbell and behind-the-fork approach has led to many opportunities, experiences, and life changes amongst his clients.
Over his career, Phil has competed and excelled in many of the strength sport disciplines. Early in his career Phil trained for strongman competitions before taking up Powerlifting. Currently, you can find him competing in Highland games. Phil has been a large player in the coaching field; he was the head coach under Charles Staley at Staley Training for nearly three years before offering his expertise here at CasePerformance. Phil also has been recognized for his contributions to the development of fitness forums and online strength consultations. His writings have been published in Muscle and Fitness Magazine, as well as Staley Training. Phil is also the North American Highlander state chair and founder of Lift4hope.org, a strength based charity organization. Most recently, Phil founded The Strength Guild. Read more about The Strength Guild on our community page.
His current personal fitness goals are to build upon his already impressive "raw" powerlifting career which has seen him set National APF Raw records in the bench, squat, deadlift and total. Phil won the 2007 Single Lift Worlds 242 lb division in the deadlift, with a lift of 680 lbs. He has been ranked in the "Top 10" in the deadlift nationally across all powerlifting federations (both raw and equipped). Phil's marquis lift was his 725-pound raw deadlift, performed on February 14, 2009 in Phoenix, Arizona and his eyes are set on pulling a 800lb raw beltless deadlift. He is also a new force to Highland games where he has quickly progressed through the ranks. As of October 2010, Phil competes in the A class with a goal of going professional soon.
Phil is known by many as the guy who always bounces back and "can't be kept down." As a child, his hip was shattered in 16 places and femoral artery severed after getting (see full story by Clicking Here). Fast forward 21 years and Phil won his first major accomplishment - single lift worlds in the deadlift. Despite suffering from chronic pain related to this injury, Phil manages to still get things done.
Phil has also underwent many body transformations himself. He was morbidly obese as a teen and early 20's. After embracing fitness and nutrition, he went from a 315 lbs to 215 lbs in three month. At his lowest he was 165 lbs and an avid runner. He then took up physique training and spent several years weighing between 200-220 lbs training for physique before setting his sites on strength sports (strongman, powerlifting, Highland games). It's this diverse background that Phil's clients love about him. No matter where they are coming from, he has likely lived it or something worse.
Over the past years he has trained everyone from distance runners to fitness competitors, triathletes, to powerlifters. These athletes have included many regional, national, and world champion athletes. Many of his athletes have set records in their specific sport at both the national and world level of competition.
Testimonial support for Phil Stevens
---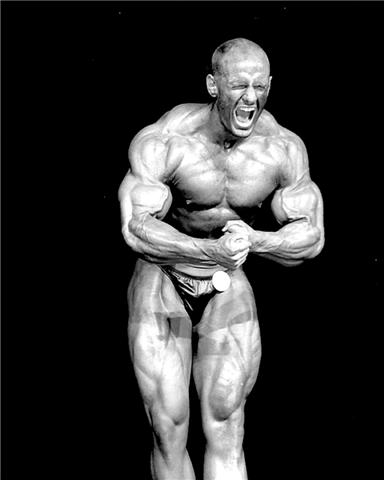 Robert "Fortress" Fortney
Robert Fortney is a veteran weight-training enthusiast who has competed successfully as both a bodybuilder and powerlifter. Fortress, as he is known within the industry, has a diploma in journalism, and has served as assistant editor at MuscleMag International and managing editor at the legendary underground publication Peak Training Journal.
Fortress has trained with and befriended many of the top names in the global strength and muscle subculture. He is known for his highly technical and intense style of training, natural strength and no-holds-barred approach in his written work.
Currently, Robert lives in his hometown of Toronto, Ontario, Canada. He is always working towards achieving his greatest strength potential and is one of the world's foremost experts in heavy metal music.
View all articles by Rob "Fortress" Fortney.
---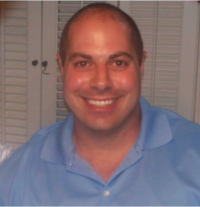 Jonathan Mike – PhD (Candidate)
Jonathan Mike –PhD (Candidate) is currently on the final stages of working on his PhD in exercise physiology at the University of New Mexico in (Albuquerque). He received his bachelor's degree in exercise science from Western Kentucky University (Hilltoppers) in Bowling Green, KY, and his Master's degree in exercise science, also from WKU. In 2003, he served as strength and conditioning assistant at Western Kentucky University for 2 years assisting athletes in Baseball, Softball, Track, and Swimming and then in 2006 at University of Louisville assisting in Women's Soccer, Softball, Men's Soccer, and Field Hockey. Jon also worked at UofL in the campus health initiative programs. He even once swam competitively (rumor was a shark was chasing him). He has been lifting heavy things for 13 years and has been competing as an Amateur Strongman Competitor since 2007, and qualified for the National Competition in 2009.
He is a frequent contributor and co-host for Iron Radio. Dr. Mike serves as senior contributor to the NSCA online forums, and a member of the NSCA-CPT Exam Developing Committee, book chapter co-author in the upcoming Dietary Protein and Resistance Training book (CRC Press 2012), strength coach, and has written both for lay fitness publications and online sites. Jon prides himself on consumer advocacy and anti-guru-ness. He has completed a 620 raw deadlift and 285 standing overhead press. He is certified through USAW (Level 1 Sports Performance Coach), and certified through NSCA (CSCS, NSCA-CPT). He is an avid guitar and piano player, and loves to engage in total caloric overkill, and continues to train and compete in Strongman. He currently resides in Louisville, KY.
---
Brian Putchio
Brian Putchio is owner/operator of NUTRI-BODIES, LLC in Dubuque, Iowa. Through his extensive knowledge and experience in the nutraceuticals industry since 1999, Brian offers a unique perspective to those who read his articles. Brian's refusal to simply flow with the marketing strategies of the industry conveys a strong sense of credibility that helps consumers successfully navigate the nutraceutical minefield.